Family Fishing Day 2007 Story
By Michael Hall
It was incredible to see how many hot dogs and hamburgers over 120 children between the ages of 2 and 14 could eat. Do you think their parents helped them? At our 9 June 2007 Family Fishing Day we consumed over 300 hot dogs and 300 hamburgers.  It was a great time for everyone involved and a memory maker we <![if !vml]>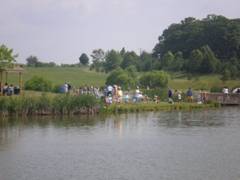 <![endif]>will all remember for many years to come. 
What a spectacular day it was on 9 June 2007 at Franklin Park.  The weather was picture perfect. Temperatures were in the low 80's and the sun was shining brightly. We had a moderate breeze keeping all our excited participants well aerated.  Our committed volunteers were ready to provide a fun day of fishing thrills. There was a huge turnout of energized families wanting to learn about world's greatest sport, fishing.
The Family Fishing Day site was well maintained by the Franklin Park staff.  The grass was freshly cut.  The pond was in excellent condition having been taken care of all year by Park Manager, Mike Horner.   Reports of big bass and catfish catches from the Franklin Park pond added to the excitement as we worked to register all the families.  Picnic tables, chairs, and 3 gazebos were in place to provide shade and cover for all the participating families and the fish being weighed in.
<![if !vml]>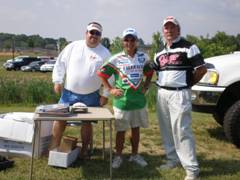 <![endif]>We had a very dedicated and committed set of volunteers this year that helped prepare and conduct this wonderful event.   Brian Lancaster representing Mare Marine hung out all day handing out beautiful grey and red Ranger hats.  Joel Richardson, with his wife Jackie, came out with their bright green Fuji wrapped Ranger Z-20.  All of families were thrilled to meet Joel and receive the Fuji Do-Rap hats and autographed cards.  Bobby Williams, Rick Whitaker, and Glen Cooper of OBC Bassmasters did a super job of weighing and releasing all fish alive.  Bob Seymore brought rattle snake watermelons as a special treat.
John and Sheryl Britton had spent several hours in sweltering heat on Friday to provide a professional set up for the Casting Kids and Children's Fun area.  There were multiple casting lanes with brightly displayed banners for many of our sponsors that included Dick's Sporting Goods, Ranger and MARE Marine.  The Children's Fun area included the bow of a Ranger bass boat where children could cast at targets to test their casting skill and win prizes.
A special thanks to all our volunteers that came out and helped make this a very meaningful and spectacular event.
<![if !vml]>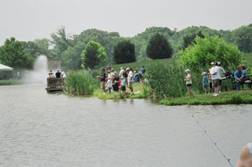 <![endif]>The crowd grew as we approached the time for our 0900 start for the Children's fishing tournament.  There was an air of anticipation as many families had waited several months for this special day.  Registration this year was computerized and each participant was even given a number. Casey Whitaker served as our computer expert and registrar. Casey you did a fantastic job recording all the weights of the fish.
As the red, white, and blue colors of the American flag swayed in the breeze, Pastor Lewis Homes of Oakton Baptist Church opened the fishing day leading the pledge of allegiance and a word of prayer.  Rick Whitaker quickly covered the tournament rules. Joel Richardson, master bass pro from the Fuji fishing team energized the crowd with motivational thoughts about fishing.  As Joel passed the microphone to Michael Hall, the only words left to be said was to shout, "It's time to go fishing."  The big crowd wasted no time in heading to the pond.  They quickly ran down the hill and took up their positions all around the pond.  Fish would be weighed on hand held scales to be released quickly. The weights would be called up to Casey on portable radios.
<![if !vml]>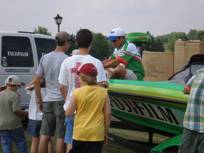 <![endif]>Many families crowded around Joel's bright green Fuji Ranger and Brian Lancaster's Ranger hat table during the morning. They were thrilled to have their pictures taken with Brian and Joel.
It was an awesome sight to look out across the pond and see so many families working together to catch fish.  Many families had brought their own tackle. For those families that needed tackle, there were over 150 rods and reels set up and ready.  Bobby Williams of OBC bass masters had supplied 100 dozen night crawlers.  He wanted to make sure that we had plenty of live bait for everyone. It was quite an experience for some children to touch their first night crawler and bait a hook.  Thanks Bobby, the night crawlers were quite alive, and nice and slimy.  There was even some really smelly catfish bait that was supplied by Dick's Sporting Goods.
Pro fisherman, Joel Richardson and Michael Hall, took the time to walk around the pond and speak with as many families as possible.  Joel and Michael demonstrated handling <![if !vml]>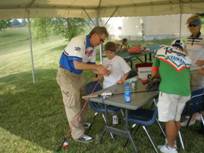 <![endif]>of fish, tying knots, casting techniques, and shared fishing tips.  The families were anxious to learn more about fishing.  Many made the switch to using artificial baits after talking to Michael and Joel.  There were some nice bass caught by the children after they switched to using artificial plastic baits.
The 3 hour children's fishing tournament went like a flash and then it was time to eat.  "Pass the mustard, ketchup, and relish." "Gee, those baked beans are good." "Wow! Even watermelon and cookies for desert."  Everyone was able to eat their fill of hotdogs and hamburgers and reload their energy for the Casting Kids competition.  Top catches from the fishing tournament were compiled as the families ate their lunch and are shown below:
<![if !supportLists]>1. <![endif]>Largest bass - 3 lbs by Samuel Yates
<![if !supportLists]>2. <![endif]><![if !vml]>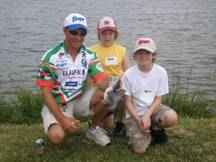 <![endif]>2nd largest bass - 2.59 lbs by Robert Shank
<![if !supportLists]>3. <![endif]>Smallest bass – .08 lbs by Jonathan Wrighe
<![if !supportLists]>4. <![endif]>Largest bluegill - .73 lbs by Samuel Yates
<![if !supportLists]>5. <![endif]>2nd Largest bluegill - .37 Lbs by Ian Hardesty
<![if !supportLists]>6. <![endif]>Smallest bluegill - .01 lbs by Joshua Hipple
<![if !supportLists]>7. <![endif]>Largest catfish – 4.61 lbs by Joshua Hipple
<![if !supportLists]>8. <![endif]>2nd largest catfish – 3.1 lbs by Kelsie Strobel
<![if !supportLists]>9. <![endif]>Smallest catfish - .41 lbs by Brody Stipancic
Thanks to OBC bass masters and Oakton Baptist Church for providing, cooking, and serving all that tasty food.  Pastor Lew, George, and Rebecca Hall, you did a super job cooking all that food on those hot charcoal grills. You might want to consider starting your own restaurant one day. Those hotdogs and hamburgers sure were tasty.
<![if !vml]>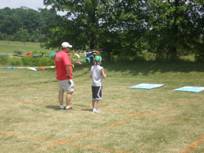 <![endif]>After lunch, the crowds started to gather around the Casting Kids competition area to register and watch the children already practicing in the Casting lanes.  The Casting Kids teaches the children 3 different techniques for presenting baits to fish; flipping, pitching, and casting.  Each contestant gets an opportunity to learn and practice prior to competing for an official score.  On this day, casting was a challenge due to the very strong afternoon breeze.  Flipping and pitching accuracy played very big throughout the competition.
Special thanks go to Jason Strobel, Michael Hall II, John and Sheryl Britton for all their efforts to work with the children and teach them how to flip, pitch, and cast.  Watch out bass pros! There are some talented fishing juniors fast developing their fishing skills. Congratulations to our two champions from the 2 Casting Kids age groups.
<![if !supportLists]>1. <![endif]>7-10: Nicholas Tang from Centreville, VA
<![if !supportLists]>2. <![endif]>11-14: Michaela Follin from Manassas, VA
What better way to end such a grand day then to award the champions of the fishing tournament and Casting Kids competition their trophies and medals.  It was wonderful to see the beaming smiles on the children as their names were announced as champions for the day. They received applause for their accomplishments as they received their trophies and awards.  Perhaps some of these children will continue their success and be on a bigger fishing stage one day.
<![if !vml]>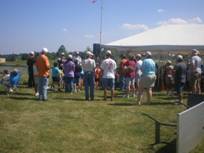 <![endif]> This was only the beginning of the awards ceremony. At our Family Fishing Day, all children are winners and we gave out prizes to all the children.  We had a huge assortment of rods and reels, tackle boxes, and fishing accessories from Dick's Sporting Goods. We thank you Amy Ebersole for your generous donation of fishing prizes again this year from Dick's. There were about 150 Pack Rat movers' stuffed animals that we gave out to the children. We thank you James Burati for the kindness showed to us by Pack Rat movers.
As we snapped the group pictures of many of our children with their trophies and prizes, you could still feel the excitement in the air.  For many of us it had been a time of sharing and giving back.  For many it had been a time of learning, overcoming challenges, and achieving.  For all of us it had been a time of making memories that will last a lifetime. 
<![if !vml]>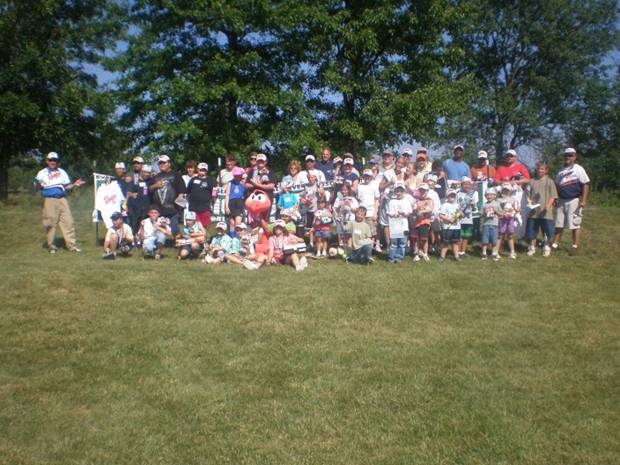 <![endif]>